| | |
| --- | --- |
| | INFORMATION |
| | RESEARCH |
| | CONSERVATION |
| | SERVICES |
| | BUILDING CAPACITY |
| | ABOUT US |
| | LATEST NEWS |
| | ACKNOWLEDGEMENTS |
| | |
| | HOME PAGE |
This page is in progress. Please send any bird records or contributions to Michael Mills.

1. Mussulo Bay (Luanda) IBA

Contributions from Ronnie Ghallager and Kostadin Luchansky

Mussulo Bay is a large, protected bay bordering on the south-west of Luanda city and separated from the Atlantic ocean by a 30 km-long sand spit. It is easy to reach and offers excellent opportunities for watching waterbirds.

SPECIALS: Damara Tern, Royal Tern, Black Tern, flamingos, pelicans, large numbers of waders including the possibility of rare vagrants such as Common Redshank and European Oystercatcher.

SEASON: Accessible throughout the year, although the best birding is in the summer months (September-April) when large numbers of waders and terns visit from the northern hemisphere. Probably the best site for vagrant waders in Angola.

HABITATS: Large inter-tidal midflats, particularly towards the south of the bay and around some of the islets, mangrove covered islets (including Ilheu dos Passeros) and sandbars. There are recent reports of the mangroves being felled, and rapid developements in the Luanda area may cause the best areas to change.

BIRDING: The most diverse habitats surround the various islets found in the middle of the bay, which can only be accessed by boat. Focus your attention on Ilheu dos Passeros (WP 2; Bird Island, which is a nature reserve) and Ilha do Quissanga (WP 4). Herons, storks and pelicans often roost in the mangrove trees, and in these areas one should watch out for Great White Pelican, Pink-backed Pelican, African Openbill, African Spoonbill, Sacred Ibis, Grey Heron, Little Egret and Black Heron. Red-winged Pratincole breeds in small numbers during the winter months. The surrunding mudflats hold a variety of waders, although most are migratory; White-fronted Plover is resident, and in summer large numbers of waders arrive from their Palaearctic breeding grounds, including Grey Plover, Common Ringed Plover, Kittlitz's Plover, Bar-tailed Godwit, Common Whimbrel, Ruddy Turnstone, Sanderling, Little Stint, Curlew Sandpiper, Marsh Sandpiper, Common Greenshank, Ruff and Eurasian Curlew. There are also records of Red Knot, Common Redshank and Eurasian Oystercatcher. Perhaps the best wader watching area is at the south of the bay, which can be accessed via the main coastal road leading out of Luanda. This area is called Saco do Flamingos, as here too, flamingos may gather; Greater Flamingo is regular and Lesser Flamingo is reported from time to time. A telescope would be very useful in order to scan the vast mud flats. Also try watching from the shore in the vicinity of WP 5. Just south of the south end of the bay are serveral salt pans (access by 4x4 only) which sometimes hold Cape Teal. The final area to focus one's attention is the northern tip of the long sand spit (WP 3), where large numbers of gulls and terns may roost. Watch for Kelp Gull, Grey-headed Gull, Caspian Tern, Royal Tern (summer only), Black Tern (summer only), Sandwich Tern and the diminutive Damara Tern (May-September). Palmnut Vulture can be seen throughout the area.

OTHER ANIMALS: Few other animals remain in this area.

NEARBY SITES: Dry scrub adjacent to the bay, especially east of the main road, hold species such as Purple-banded Sunbird and Red-backed Mousebird.

GETTING THERE: The most accessible mudflats are at the southern end of the bay (WP1 = 9.081811°S, 13.024736°E). Access to other areas of the bay is best by boat, which can be organised at Bemfica, Belas and Luanda.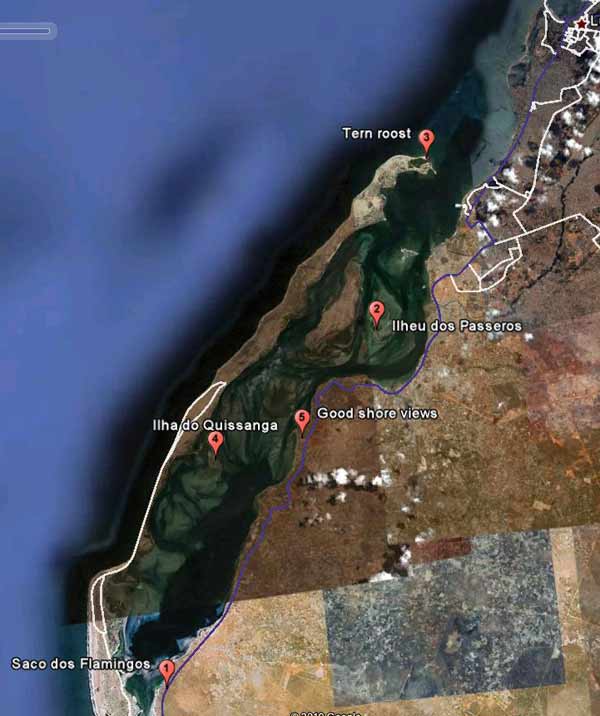 2. Kissama National Park (Bengo) 4x4 IBA

This large national park, some 10 000 square km in extent, is situated near Luanda city and has a good tourist infrastructure. It offers easy access to a number of endemic birds and is probably the best site to see the endemic Grey-striped Francolin. The remote south-east is difficult to reach, although it holds a population of the rare Gabela Helmetshrike.

SPECIALS: Grey-striped Francolin, Bubbling Cisticola, Red-backed Mousebird, White-fronted Wattle-eye, Angola Batis, Golden-backed Bishop, Red-crested Turaco, Rufous-tailed Palm Thrush and Pale-olive Greenbul. Monteiro's Bushshrike and Gabela Helmetshrike occur in the remote south-east of the park.

SEASON: Bird watching is good throughout the year.

HABITATS: Arid savanna, gallery forest, wetlands, mangroves.

BIRDING: Most visitors would arrive at Kissama by crossing the Kwanza River floodplain along the main Luanda-Sumbe road, coming from Luanda in the north. The floodplain surrounding the main road between is one of the most reliable sites in Angola for Saddle-billed Stork. Angola Swallow nests in the roadside culverts here, and one should listen out for African Reed Warbler calling from the tall grass in summer months. In the areas with bare patches, watch out for Long-legged Pipit, here near the southern edge of its range. The drive along the entrance track from the main road to Kawa camp offers an opportunity to look for a wide range of savanna species. Raptors often encountered include Bateleur, African Harrier Hawk and Gabar Goshawk. Helmeted Guineafowl and Red-necked Spurfowl often cross the track. The host of widespread savanna species that may be seen along this stretch of road include Grey Go-away-bird, White-browed Coucal, Senegal Coucal, Verreaux's Eagle Owl, Striped Kingfisher, Lilac-breasted Roller, Purple Roller, Green Woodhoopoe, Southern Yellow-billed Hornbill, Acacia Pied Barbet, Cardinal Woodpecker, Red-faced Mousebird, Black-backed Puffback, Brown-crowned Tchagra, Orange-breasted Bush Shrike, Cape Glossy Starling, Red-billed Buffalo Weaver, Long-biled Crombec, Purple-banded Sunbird, Red-billed Quelea and Blue Waxbill. Also watch out for the endemic Golden-backed Bishop, which can be hard to pick out amongst the other seedeaters when not in breeding plumage. The camp grounds themselves are a productive area for birding, as one can walk freely on foot, although species expected are similar to those found along the main entrance road. To search for the endemic Grey-striped Francolin, organise at Kawa camp reception to do an early morning or late afternoon walk in the riverside vegetation below Kawa camp. This needs to be done in the company of an armed escourt, who may know how to find the birds. Other species seen in this area are Olive Bee-eater (May-October), Blue-cheeked Bee-eater (summer), Rueppell's Parrot and Bubbling Cisticola.

The remote south-east of the reserve is accessed via a road travelling east off the main Luanda-Sumbe road, and leaves this main road just north of Caba Ledo. Travel approximately 40 km east along this road and then watch for any side roads heading south towards Mumbondo. Access is only by 4x4, and visitors should camp overnight to make the visit worthwhile. There are no facilities here. Patches of dry forest and gallery forest along the main rivers are the best place to look for the rare Gabela Helmetshrike. Watch out also for the spectacular Red-crested Turaco, Monteiro's Bushshrike, Pale Olive Greenbul, Carmelite Sunbird, Green-headed Sunbird, Angola Batis, White-fronted Wattle-eye, Ashy Flycatcher, Green Crombec, Hartert's Camaroptera, Yellow-necked Greenbul, Narina Trogon, Forest Scrub Robin, Rufous-tailed Palm Thrush.

OTHER ANIMALS: A variety of large game has been reintroduced into the reserve, including elephant, zebra, wildebeest and giraffe. These can be seen in a fenced game area of 12000 hectares. In the early morning and late evening, watch for serval along the well-grassed tracks.

NEARBY SITES: Orange Weaver has bred on the northern banks of the Kwanza River near Barro do Kwanza and Long-legged Pipit has been seen along the main road as it passes the main Kwanza floodplain south of the river.

GETTING THERE: Follow the main coastal road southwards out of Luanda, towards Sumbe. About 1 km after crossing the Kwanza River, watch for the sign-posted turnoff to the left (WP 1 = 9.361468°S, 13.176688°E), where there is an entry gate. An entry fee is payable. From here it is 39 km to Kawa camp (WP 2 = 9.184047°S, 13.371883°E), where comfortable accommodation and camping is available.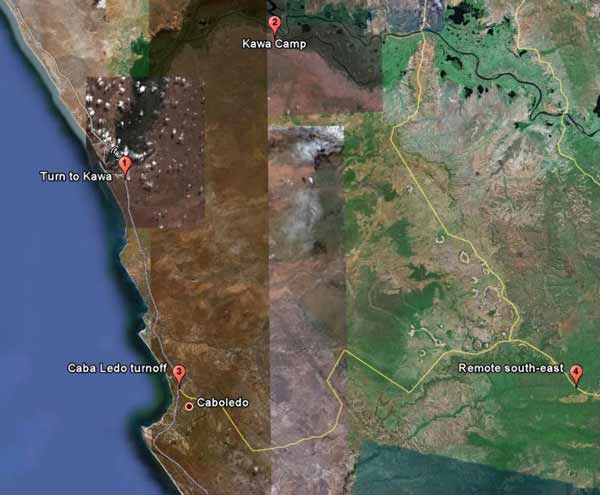 3. Longa River (Bengo/Cuanza Sul)

With comfortable accommodation near Luanda, this site on the southern border of Kissama National Park offers good wetland and savanna birding.

SPECIALS: Rufous-tailed Palm Thrush, Bubbling Cisticola, White-fronted Wattle-eye, Angola Batis, Golden-backed Bishop,

SEASON: Accessible year round, although very hot November-April. This is the time to see breeding sea turtles.

HABITATS: Wetlands, mangroves, riverside thickets and coastal thicket/savanna

BIRDING:The river itself provides excellent habitat for an array of wetland birds, easily accessed with a boat from Camp Rio Longa. Along the well-vegetated river banks, watch for African Darter, Reed Cormorant, Squacco Heron, Purple Heron, Goliath Heron, Green-backed Heron, Little Bittern, Black-crowned Night Heron, Black Heron, Great White Egret, White-faced Duck, Knob-billed Duck, African Openbill, Black Crake, African Jacana, Pied Kingfisher, Woodland Kingfisher and Malachite Kingfisher. Allen's Gallinule is less common. Slender-billed Weaver breeds in the papyrus beds, which is also frequented by Greater Swamp Warbler, White-browed and Blue-headed Coucal (the latter difficult to see, but more easily heard). Böhm's Spinetail is sometimes seen overhead. Along the large sand bar in front of Camp Rio Longa and along the shoreline, watch for Water Thick-knee, Kelp Gull, Cape Gannet (fishing offshore), Sanderling, Curlew Sandpiper, Whimbrel, Common Greenshank, Wood Sandpiper, Common Sandpiper, Caspian Tern, Royal Tern and Common Tern. Wetland-associated raptors include African Fish Eagle, Osprey and Palm-nut Vulture. A very productive walk can be had along the northern bank of the river; get the lodge boat to drop you off about 2 km before the bridge and slowly walk through the coastal thickets and savanna back to the boat launch site. The better developed patches of riverine forests and thicket hold the endemic Red-backed Mousbird and White-fronted Wattle-eye (best sought near the boat launch site), near-endemic Angola Batis and Bubbling Cisticola (often in the more open areas along the river), and localised Rufous-tailed Palm Thrush and Swamp Boubou. Even the near-endemic Pale Olive Greenbul has been seen here. More widespread species to watch for include Green Woodhoopoe, Crowned Hornbill, Lesser Honeyguide, Golden-tailed Woodpecker, White-browed Robin-Chat, Rufous-vented Paradise Flycatcher (rare), Collared Sunbird, Black-backed Puffback, Black-necked Weaver, Spectacled Weaver, Holub's Golden Weaver, Dark-backed Weaver, Grey Waxbill (uncommon), Yellow-bellied Greenbul and Narina's Trogon. Further away from the river, a host of bushveld species can be found. The localised Carp's Tit may be seen here, alongside more widespread birds such as Emerald-spotted Dove, Pearl-spotted Owlet, Striped Kingfisher, Southern Yellow-billed Hornbill, White-browed Scrub Robin, Yellow-breasted Apalis, Long-billed Crombec (note the distinctive subspecies), Purple-banded Sunbird, Southern White-crowned Shrike, Brown-crowned Tchagra, Orange-breasted Bush-Shrike, White Helmetshrike, Red-billed Buffalo Weaver, Blue Waxbill, Little Bee-eater and Red-faced Mousebird. Golden-backed Bishop should be watched for among the flocks of seed-eating birds in the agricultural fields, although this species is hard to identify when in drab non-breeding plumage. Raptors regularly seen include Brown Snake Eagle and Peregrine Falcon.

OTHER ANIMALS: Watch for the endemic angolensis subspecies of Blue Monkey in the mangroves along the river. Turtles breed on the beaches from November to January.

NEARBY SITES: The Keve River floodplain to the south (WP ) also offers good wetland birding. The brown-rumped form of Horus Swift has been reported breeding here.

GETTING THERE: The Longa River is situated about 3 hours' drive south of Luanda, along the main coastal road to Sumbe. The turnoff (WP1 = 10.196047°S, 13.521659°E) to the boat launch site for Camp Rio Longa is just before the Longa River bridge, and is sign-posted off the main road. From here visitors are collected and taken to the lodge (WP2 = 10.237530°S, 13.494259°E) near the mouth of the Longa River. Details of Camp Rio Longa are available on their website http://www.riolonga.com/. It is also possible to watch birds along the bank of the river around the boat launch site, without staying at the lodge. However, visitors should stick to the main tracks as land mines have been found around the bridge.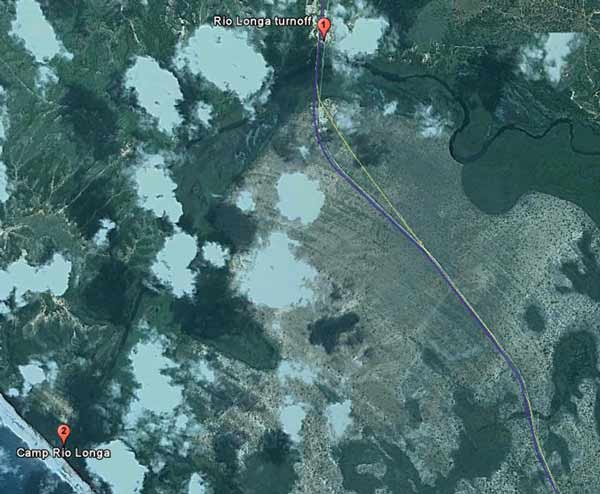 4. Kumbira Forest (Cuanza Sul) 4x4

Kumbira is Angola's premier bird watching destination, with the widest variety of endemics of any site in Angola. Forest cloaks the main valley, and Njelo Mountain offers access to montane grassland and rocky mountain slopes.

SPECIALS: Gabela Bushshrike, Pulitzer's Longbill, Grey-striped Francolin, Angola Cave Chat, Gabela Akalat, Angola Batis, Pale-olive Greenbul, Angola Slaty Flycatcher, Red-crested Turaco,

SEASON: May to October. Road conditions often make it inacessible from November to April, when it rains a lot. Even during the dry season, road conditions are poor.

HABITATS: Central scarp forests ranging from 700-1150 m altitude, dry thickets, secondary forest, farmland and grassland.

BIRDING:

OTHER ANIMALS: Few mammals remain in the area.

NEARBY SITES: Moist grasslands near Conda hold Compact Weaver.

GETTING THERE: From Luanda, travel south on the main coastal road to Sumbe, turning left to Gabela between Porto Amboim and Sumbe (WP 1 = 11.133114°S, 13.935814°E). Continue on this road towards Gabela for about xx km, climbing up the esscarpment. At Mile 27 (WP 2 = 10.940574°S, 14.332273°E) turn right to Conda Village, about xxx km further. At Conda take a sharp right on entering the main town (WP 3 = 11.106613°S, 14.334298°E) and follow the narrow track for xx km to Kumbira Village (WP 5 = 11.135784°S, 14.295883°E). The most important turn on this section is just after a river crossing, about 5 km from Conda (WP 4 = 11.093467°S, 14.317627°E). Here one should turn left, not right. This track from Conda to Kumbira is in very poor condition and becomes impassable during the wet season. You may also need to ask for directions locally, as there are several side tracks. On reaching Kumbira Village, continue on the main track down Kumbira Valley for a further 4-6 km and use tracks and trails to the left to access the forest. Driving time from Conda to Kumbira is 1.5-2 hours.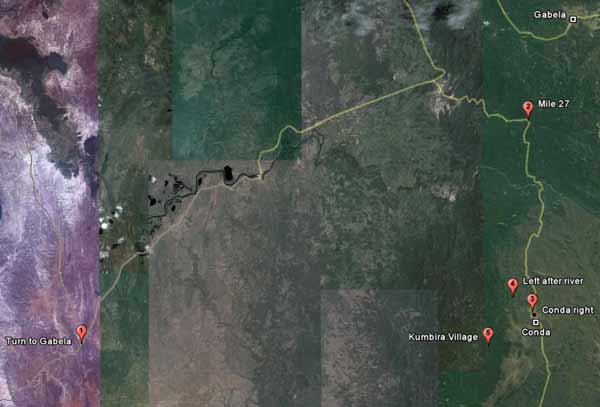 5. Kangandala National Park (Malanje) 4x4 IBA

This national park is most famous for protecting a small population of giant sable, Angola's national mammal. It offers excellent miombo bird watching for the more adventurous.

SPECIALS: Black-necked Eremomela, Dusky Lark, Chirping Cisticola, Pennant-winged Nightjar.

SEASON: May-September is best. Several river crossings become impassable during the rains.

HABITATS: Miombo woodlands, grassy drainage lines, papyrus swamps.

BIRDING:

OTHER ANIMALS: You will stand little chance of seeing the rare giant sable, and few other mammals remain.

GETTING THERE: From Malanje town, continue southwards on the road to Mussende. At Kangandala village, turn left (WP 1 = 9.790284°S, 16.427705°E) onto a narrow road. After about 12 km, take the turn to the right (WP 2 = 9.788544°S, 16.518662°E; not exact). The national park entrance (WP 3 = 9.819260°S, 16.654341°E) is about 20 km from here.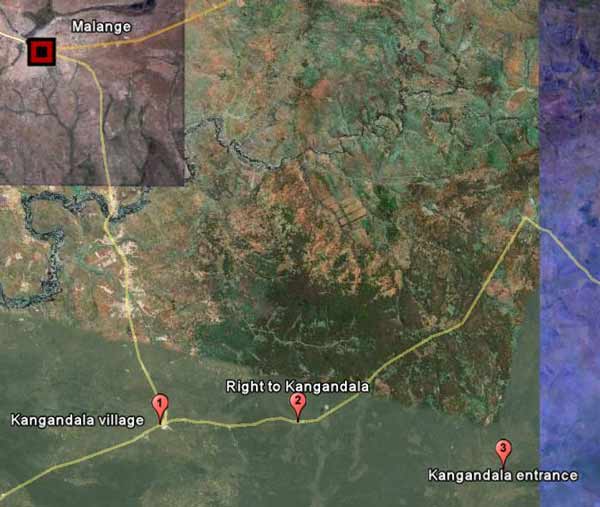 6. Iona National Park (Namibe) 4x4 IBA

Excellent desert birding is to be had in this large national park, which borders on Namibia.

SPECIALS: Ludwig's Bustard, Gray's Lark, Benguela Long-billed Lark, African Black Oystercatcher (rare in Angola), Damara Tern, Herero Chat, Burchell's Courser, Olive Bee-eater.

SEASON: Access throughout the year, except after heavy rain when the Curaco River is in flood.

HABITATS: Rocky mountains, arid gravel plains, dry savanna, coastal dunes, wetlands at the Cunene River mouth.

BIRDING:

OTHER ANIMALS: most mammals have dissapeared, although you still stand a chance of seeing gemsbok/southern oryx and springbok.

NEARBY SITES: Flamingo camp is situated on the coast in northern Iona, and can be reached from Tombua.

GETTING THERE: From Namibe continue southwards on the coastal road to Tombua. After about 60 km turn left onto a gravel track (WP 1 = 15.700684°S, 12.081115°E). After about xx km you'll reach the park entrance at the Curaco River (WP 2 = 16.303294S, 12.416526°E). There are several side tracks, so it is advisable to purchase the GPS maps of Tracks4Africa.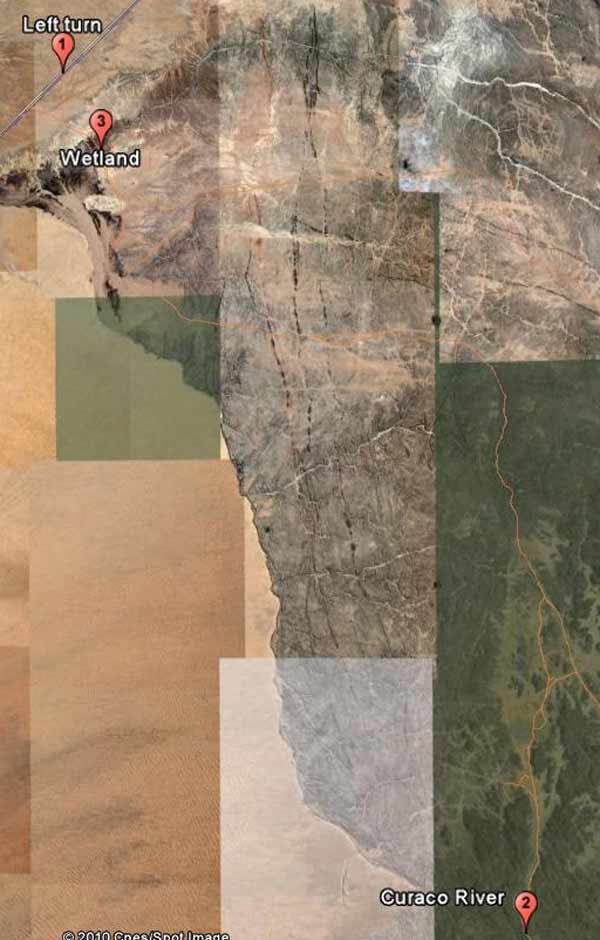 7. Calandula Forests (Malanje) 4x4

Gallery forests approximately 40 km north of Calandula Falls, Angola's highest waterfall, are home to several rare and localised bird species

SPECIALS: White-headed Robin-Chat, Bannerman's Sunbird. Black-tailed Cisticola has also been reported from here.

SEASON: Accessible year round, although May-September is best.

HABITATS: Gallery forest, miombo woodland

BIRDING:

OTHER ANIMALS: Few mammals occur in the area.

GETTING THERE: From the main Luanda-Malanje Road, turn north approximately xx km west of Malanje (WP S9.49503 E16.15169). Continue to Calandula and then northwards on the road to Uige. Turn right after about 30 km (WP S8.91411 E16.04722) and you'll arrive after about 6 km at a large river (WP -8.897181, 16.086400).



8. Lubango (Huila)

The southern town of Lubango offers easy access to various habitats without an hour's drive. Most famous of these are the spectacular sandstone cliffs of Tundavala.

SPECIALS: Angola Cave Chat, Angola Slaty Flycatcher, Ludwig's Double-collared Sunbird, Cinderella Waxbill.

SEASON: Accessible throughout the year.

HABITATS:Sandstone cliffs, Afromontane forests and grasslands and isolated patched of miombo woodland.

BIRDING:

OTHER ANIMALS:

NEARBY SITES:

GETTING THERE: Lubango is reached by road from Namibia (one day), Luanda (2 days) and Huambo (1.5 days). It is serviced by daily flights from Luanda and regular flights from Windhoek.


9. Mount Moco (Huambo) 4x4

Mount Moco holds the most accessible montane forest in Angola, and is the only reliable site to see Swierstra's Francolin. The surrounding grasslands and miombo woodlands are also productive.

SPECIALS: Swierstra's Francolin, Angola Slaty Flycatcher, Dusky Twinspot, Swee Waxbill, Rock-loving Cisticola, Ludwig's Double-collared Sunbird, Oustalet's Sunbird, Margaret's Batis, Fernando Po Swift, Angola Lark, Black-and-rufous Swallow

SEASON: Best from May-September, when it is dry, although accessible year round.

HABITATS: Afromontane forest (85 hectares in total), grasslands and miombo woodlands.

BIRDING: Leaving the main Lobito-Huambo road near Ussoque town, you soon cross a bridge over a stream, where Black-and-rufous Swallow has been seen in August/September. Other swallows here include Grey-rumped Swallow and Pearl-breasted Swallow. Between here and Kanjonde village, watch the open grasslands for Black-bellied Bustard, Capped Wheater, Sooty Chat, Wing-snapping Cisticola, African Wattled Lapwing, Angola Lark, Red-capped Lark, Fulleborn's Longclaw and Kurrichane Buttonquail.

The best base for visits to Mount Moco is Kanjonde village. Rank vegetation along streams adjacent to the village are home to the localised Dusky Twinspot, Fan-tailed Grassbird, Swee Waxbill (of the endemic bocagei race), Fawn-breasted Waxbill, attractive Black-collared Neolestes/Bulbul, Red-faced/Lepe Cisticola and Moustached Grass Warbler. Red-chested Flufftail may be heard in summer.

From the village of Kanjonde, follow the stream up to the degraded forest patch and secondary growth about 500 m above the village. This habitat is surprisingly productive, and one should watch out for Miombo Rock Thrush, Bronzy Sunbird, Red-backed Mousebird, Schalow's Turaco, Western Tinkerbird, Black-backed Barbet, Red-throated Wryneck, White-tailed Blue Flycatcher, Dark-capped Yellow Warbler, Rock-loving Cisticola, Evergreen Forest Warbler, Grey Apalis, Bocage's Akalat, Angola Slaty Flycatcher and Ludwig's Double-collared Sunbird. Swee Waxbill and Dusky Twinspot regularly drink at the stream. One pair of Swierstra's Francolin also frequent this area, although are shy and very difficult to see. After dark Ruwenzori Nightjar may be heard.

To reach more pristine forest requires a lot more effort. The largest forest patch, called Luanda, occurs in the main central valley of the mountain, a 3-4 hour walk from Kanjonde Village. It should be visited only with a local guide, who can show you the best way. It can be visited by fit birders on a full-day hike. Here are several pairs of Swierstra's Francolin, which favour the areas along the forest edge. The forest itself holds healthy populations of African Olive Pigeon, Schalow's Turaco, Western Tinkerbird, Black-backed Barbet, Olive Woodpecker, White-tailed Blue Flycatcher, Perrin's Bushshrike, Grey Apalis, Angola Slaty Flycatcher, Ludwig's Double-collared Sunbird, Black-throated Wattle-eye, Cabanis's Greenbul, African Hill Babbler, Bocage's Akalat, Thick-billed Seedeater and Evergreen Forest Warbler. Several pairs of the scarce Margaret's Batis also occur here. Along the edge of the forest, watch for Green-backed Honeybird, Red-throated Wryneck, Spotted Creeper, Black-faced Canary and Rock-loving Cisticola. In the past, Bar-tailed Trogon, Naked-faced Barbet, Laura's Woodland Warbler and Orange Ground Thrush have been collected here, although none of these species have been sighted here in recent times. Other smaller forest patches also hold similar species.

Between the forest patches, most of the mountain is covered in rocky grasslands, that are home to Mountain Wheatear (endemic nigricauda subspecies), Yellow-crowned Canary, Wailing Cisticola and Oustalet's Sunbird. Also watch out for Brown Snake Eagle, Red-necked Buzzard and Augur Buzzard. Fernando Po Swift has also been collected here, and large black swifts regularly seen in the area probably belong to this species. Finsch's Francolin is rare in the area, but still occurs.

Much of the surrounding area is covered in Miombo woodlands. However, these are perhaps better accessed on a track that runs to the north of Mount Moco, to Kapa Kuito. In these woodlands one should watch out for species such as Coqui Francolin, African Cuckoo Hawk, Dark Chanting Goshawk, Pennant-winged Nightjar (in display in August), Miombo Tit, Rufous-bellied Tit, Miombo Wren Warbler, Salvadori's Eremomela, Red-capped Crombec, Yellow-bellied Hyliota, Sharp-tailed Starling, Miombo Double-collared Sunbird, Orange-winged Pytilia and Wood Pipit. The scarce Anchieta's Barbet has been recorded previously, as has Angola Cave Chat (probably on the rocky hills south of mountain), Souza's Shrike, Pale-billed Hornbill, Black-necked Eremomela, Bohm's Flycatcher, Anchieta's Sunbird and the very rare Bocage's Sunbird, the latter favouring more open areas on the edge of wetlands.

OTHER ANIMALS: Rock Hyrax is the only mammal commonly encountered

NEARBY SITES: The nearby Mount Soque holds a small population of Swierstra's Francolin, plus Finsch's Francolin, Angola Cave Chat, Pale-billed Hornbill, Black-necked Eremomela and Anchieta's Barbet. The habitat at this site is being destroyed rapidly.

GETTING THERE: Coming from Huambo, drive northwards on the road to Luanda. At Alto Hama turn left/west and continue past Londiumbale. Just before Ussoque Town, turn onto a small gravel track to the left (WP S12.34961 E15.11049). Kanjonde village is situated about 10 km along this track. There are several turns along this road; for precise details visit www.mountmoco.org. The drive from the main road to Kanjonde village takes about 1 hour. A small camping fee and community contribution is to be paid here.


10. Bicuari National Park (Huila) 4x4

Bicuari National Park offers access to well-developed Baikea woodland and untouched savannas in the south of Angola. The park infrastructure has been rehabilitated.

SPECIALS: Parasitic Weaver, Brown-necked Parrot, Red-billed Spurfowl, Lesser Moorhen

SEASON: Accessible throughout the year, although more productive during the wetter summer months (December-March).

HABITATS: Baikea woodland on deep kalahari sands, bushveld, wetlands.

BIRDING: The wetland in front of the main camp can be productive during the summer months. Little Grebe, Rufous-bellied Heron, White-backed Duck, Hottentot Teal and Yellow-billed Duck can be seen on the main dam. The well-vegetated stream above the dam holds Lesser Moorhen, and watch edges of the wetland for Parasitic Weaver and Yellow-crowned Bishop. Black-bellied Bustard occurs in the adjacent grasslands, alongside Pearl-breasted Swallow, African Quail-Finch, Rufous-naped Lark and Flappet Lark. In the surrounding bushveld, watch out for several species that are more typical of the semi-arid areas of southern African, namely Red-billed Spurfowl, Marico Flycatcher, Shaft-tailed Whydah and Magpie Shrike. The well-developed woodlands hold Lizard Buzzard, Coqui Francolin, Meyer's Parrot, the scarce Brown-necked Parrot, Pearl-spotted Owlet, Swallow-tailed Bee-eater, Southern Carmine Bee-eater, Southern Ground Hornbill, Brown-backed Honeybird, Bennett's Woodpecker, Mosque Swallow, Groundscraper Thrush, Kurrichane Thrush, Green-capped Eremomela, Grey Penduline Tit, Coppery Sunbird, Burchell's Starling and Orange-winged Pytilia.

OTHER ANIMALS:

NEARBY SITES: Some patches well developed Miombo woodland are still found along the main road about 20 km before Kipungu, coming from Lubango. These woodlands hold Chesnut-mantled Sparrow Weaver, Raquet-tailed Roller,

GETTING THERE: From Lubango, follow the main road out of town towards Huambo/Lobito. After xx km turn east onto the Kipungu/Matala road. Bicurai National Park is accessible via at least two different gates; one in the north, coming from Kipungo, and one in the east, accessed via Matala. Routes are not well marked, and visitors should enquire locally about the site. It is possible to camp at the park headquarters, and visitor accommodation should become available shortly.


11. Dembos Forest (Cuanza Norte)

SPECIALS: Braun's Bushshrike

SEASON:

HABITATS:

BIRDING:

OTHER ANIMALS:

NEARBY SITES:

GETTING THERE:

12.
SPECIALS:
SEASON:
HABITATS:
BIRDING:
OTHER ANIMALS:
NEARBY SITES:
GETTING THERE: