REPORT ON A VISIT TO THE LUBANGO MUSEUM, ANGOLA
Michael S. L. Mills
On 26 and 27 October 2005 I visited the bird skin collection of the Instituto de Investigação Científica de Angola housed at the Instituto de Ciêntifias da Educação in Lubango, Angola. This collection contains approximately 46000 specimens, many of which were collected by A. A. da Rosa Pinto. I estimate that at least 95% of specimens are taken from within the borders of Angola.
The collection was in fairly good condition. It is completely catalogued, and specimens are housed together with original journals with detailed information for each specimen in the collection. Almost all specimens are clearly labelled and the collections is ordered taxonomically and sorted by subspecies. I saw no invertebrates in the drawers, and the skins were clean and dry, although the feathers were sometimes untidy. Perhaps the biggest drawback was the current housing of specimens: many of the drawers contain too many specimens, so that specimens get damaged when drawers are opened and closed.
This collection represents a vast, untapped source of information on Angolan bird distributions and taxonomy. I noted several new localities for poorly-known species, and closer examination will certainly reveal many more. Specimens appear to have been identified with great accuracy and care, although some interesting identification issues need closer examination. Below is a series of notes on particular species, to highlight just some interesting information contained in this collection.
The staff members responsible for the maintenance of this collection are to be commended for their commitment and care under trying conditions.
There are two main areas in which this collection could benefit. These are:
Anyone wishing to assist the museum in maintaining its collection or wishing to gain access for research purposes should contact Birds Angola.
Acknowledgements
My sincere gratitude to staff members of the Lubango Museum, who facilitated my visit and made it possible for me to gain access to all the specimens and take photographs. Thanks especially also to Vladimir Russo of the UNDP for his assistance in making contact with and gaining entrance to the collection. Funding for this visit to Angola was provided by Conservation International, Birding Africa and the Percy FitzPatrick Institute of African Ornithology, University of Cape Town. Richard Dean provided comments on this manuscript.

NOTES ON SELECT SPECIES
Rufous-chested Sparrowhawk Accipiter rufiventris rufiventris
Three specimens in the collection, one from Autunda. Previously only know from the Serra de Chela near Lubango, Huila (Dean 2000).
Swierstra's Francolin Francolinus swierstrai
The Vulnerable, endemic species is represented in the collection by two specimens from Cariango, Cuanza Sul, and four from Tundavala in Huila. Five of the six specimens are of females.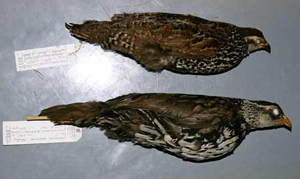 White-headed Barbet Lybius leucocephalus leucogaster
The collection contains thirty-six specimens of this distinctive, endemic subspecies, many from the Tundavala near Lubango, Huila.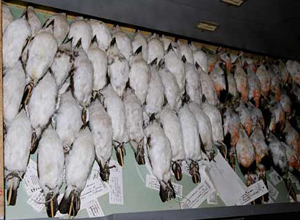 Laura's Woodland Warbler Phylloscopus laurae laurae
One specimens of the endemic subspecies laurae in the collection, collected by Rosa Pinto in 1964 from Chipepe in the Cassongue area. Previously known only from Mount Moco (Dean 2000).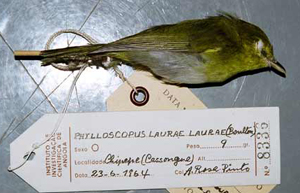 Pulitzer's Longbill Macrosphenus pulitzeri
This Endangered endemic is represented by four specimens from three different localities: Cauindi, Chongoroi; Camucuio, Chongoroi; and Canjala, Egito, Benguella.
Margaret's Batis Batis magaritae margaritae
One specimen of the endemic, nominate subspecies collected in 1964 at Acongo, Sando du Monge. Previously know only from Mount Moco (Dean 2000) [Dean WRJ. 2000. The birds of Angola. BOU Checklist series: 18. British Ornithologists Union, Tring, U.K.].
Grimwood's Longclaw Macronyx grimwoodi
Forty specimens of this scarce species, mostly from Longa and Cuito Canavale, Cuito Canavale province.
Gabela Bush-Shrike Lanarius amboimensis
Collected from Egito in Benguela, a southerly range extension for this Endangered endemic.
Monteiro's Bush-Shrike Malaconotus monteiri
Collected from Canjala, Egito, Benguella, a southerly range extension for this Data Deficient near-endemic.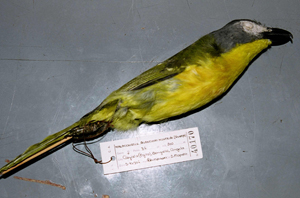 Black-chinned Weaver Ploceus nigrimentum
Two specimens from Huambo, Huambo province. Only two other specimens of Angolan origin are known (Dean 2000).
Dambo Cisticola Cisticola dambo
Collected in Cuito Canavale, Cuito Canavale province. Previously known from Moxico northwards (Dean 2000).
Pale-crowned Cisticola Cisticola cinnamomeus
Collected in Cuito Canavale. Previously known only from Huambo northwards (Dean 2000).
Angola Lark Mirafra angolensis
Many specimens of the niethamerri subspecies were examined and appear to warrant their placement under M. angolensis and not M. apiata, as has been suggested (Dean 2000).